Emilia Romagna Teatro Fondazione Modena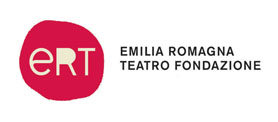 Founded and based in Modena since 1977, ERT became Permanent Public Theatre of Emilia-Romagna Region in 1991. Since 1994, it has been directed by Pietro Valenti and, in February 2015, it is officially recognized as National Theatre by the Italian Ministry for Cultural Heritage and Activities.
ERT has four main production centres: Teatro Storchi and Teatro delle Passioni in Modena, Teatro Bonci in Cesena, Arena del Sole in Bologna. Besides those theatres, ERT also manages Teatro Dadà in Castelfranco Emilia and Teatro Ermanno Fabbri in Vignola.
Production is the core of the Foundation's activity. With more than 120 plays produced, ERT focuses on both direct collaboration with directors and on the search for shows and venues that might be alternative to the traditional Italian theatre halls thus approaching a new, complex and varied public. In recent years, many directors have been collaborating with ERT, such as Giancarlo Cobelli, Pippo Delbono, Cesare Lievi, Thierry Salmon, Federico Tiezzi, Enrique Vargas, Robert Wilson, Eimuntas Nekrošius, Massimo Castri, Alvis Hermanis, Claudio Longhi and Antonio Latella to quote some.
Since 1994, the annual autumn event Le vie dei festival has been taking place, featuring some of the most interesting proposals from national and international festivals. Among the several artists to be quoted are Peter Brook, Joseph Chaikin, Lev Dodin, Jan Fabre, Rodrigo Garcìa, Philip Glass, Mathilde Monnier, Alain Platel and Meg Stuart.
In October 2005, VIE Festival saw the light as a festival mainly focused on contemporary theatre, dance, performing and connected hybrid arts, thus bringing in the region the newest forms of expressions in this field in order to draw the map of a national and international theatre territory whose protagonists could be appraised. Here are some of the names of the festival past editions: Socìetas Raffaello Sanzio, Alvis Hermanis, Josef Nadj, Virgilio Sieni, Tim Etchells/Forced Entertainment, Rimini Protokoll, Motus, Belarus Free Theatre, Thomas Ostermeier, Krzysztof Warlikowski., Angélica Liddell, Pippo Delbono.
ERT has also been intensively committed on education. Its projects aim at the fieldwork training of young actors by giving them the opportunity of improving their professional skills. In 2015, two Professional Acting Courses will start, one directed by Antonio Latella and the other directed by Claudio Longhi.