The Gothenburg City Theatre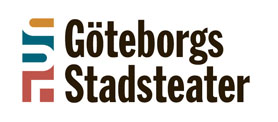 The Gothenburg City Theatre is one of the leading stages for dramatic theatre in Sweden with the mission to inspire, generate debate, entertain and provoke reflection.
The two main stages feature a mixture of classical drama and contemporary repertoire. The theatre's third stage, Foajén hosts the popular lunchtime events, concerts and readings. The Foajén bar is a popular meeting place where visitors can enjoy a glass of beer or wine, a light snack or a cup of coffee.
Backa Theatre stages productions for children and young people. The theatre started as an independent offshoot of the Gothenburg City Theatre. Today it is the most important theatre for children and youth in Sweden, and is well acclaimed both nationally and internationally.
The Artistic Director of the Gothenburg City Theatre is Pontus Stenshäll. The Artistic Director of Backa Theatre is Mattias Andersson. Björn Sandmark is the CEO and Theatre Manager of the Gothenburg City Theatre and Backa Theatre.
http://www.stadsteatern.goteborg.se/