Théâtre National de Croatie / World Theatre Festival Zagreb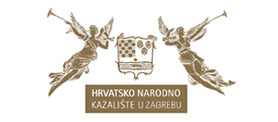 The Croatian National Theatre in Zagreb was founded in 1860 and since 1895, it has been residing in the large building designed by the most famous architects of that time Ferdinand Fellner and Hermann Helmer. Under its roof it has the Opera, Drama and Ballet ensembles with over 500 employees and its own production of sets and costumes. Each year it produces at least 12 premieres, 20 re-runs and gives more than 220 performances. The theatre has a stage with the adjoining auditorium with 710 seats, but for small-scale shows other alternative venues are also used such as the Foyer, Atrium or the rehearsal studio. Along one reconstruction in the late 1960s that preserved the basic parameters of the project and purpose of the interior spaces, the same building has been the most representative stage venue in Croatia for the past 120 years.
The repertoire of the Croatian National Theatre in Zagreb includes world and Croatian classics, national tradition and the contemporary creations through which it establishes numerous cultural liaisons and gives visiting performances on stages of most European states, Russia, North and South America, Japan and Australia.
Many world acclaimed artists such as Milka Trnina, Lovro noble Matačić, Zinka Kunc have begun at the Croatian National Theatre, and during its history, artists such as Franz Liszt, Sarah Bernard, Franz Lehar, Richard Strauss, Konstantin S. Stanislavski, Fyodor Shalyapin, Karl Bohm, Dmitry Shostakovich, Gerard Philipe, Vivian Leigh, Laurence Olivier, Jean Louis Barrault, Peter Brook, Martha Graham, Mario del Monaco, Maya Pliseckaya, Vladimir Visocky, Waczlaw Orlikowsky, Jan Fabre, Thomas Ostermeier, Pippo Delbono, Krystian Lupa, Angelica Liddel, Romeo Castellucci and many others have performed or been performed on this stage.
At the beginning of the 21st century, the CNT is turning to interdisciplinary reflection and contemporary poetics. By connecting with cultural and pedagogical institutions such as the Music Academy, Academy of Drama Art and numerous museums, the CNT is attempting to change the model of communication of artistic content and reach out for the strong position in the daily life of every spectator. By integrating the World Theatre Festival into its programme on one stage, world renowned artists are presented to the Croatian audience and with the world premiere of Angelica Liddel's performance You are My Destiny in 2014, the Croatian National Theatre joined the Prospero project that involves a network of significant European theatres. By becoming a member of the ETC (European Theatre Convention) whose president is the current CNT general manager Dubravka Vrgoč, the theatre participates in European programmes of exchange of performances, projects, education of artists and the theatre dialogue, which the common cultural space of Europe yearns for.