Celebrating the mid-point of our project
On the 1st of December 2022, we reached the mid-point of our EU-funded project Prospero Extended Theatre.
This was an opportunity for us, project partners, to take stock of what we have done so far, and what remains ahead of us. And it turns out that we achieved, in these two first years, quite a lot…
Here, an overview:
 We selected the nine creations to be supported by the project, among which six were already created:

Fraternité, Conte fantastique – by Caroline Guiela Nguyen (project accompanied by Odéon and created in July 21)
The Silence – direction by Dead Centre (project accompanied by Göteborg Stadsteater and created in November 21)
Imagine – direction by Krystian Lupa (project accompanied by Powszechny Teatr and created in April 22)
Sorry – direction by Bobo Jelčić (project accompanied by the Croatian Natinoal Theatre in Zagreb and created in July 22)
Hedda – direction by Aurore Fattier (project accompanied by Théâtre de Liège and created in September 22)
Calderón – direction by Fabio Condemi (project accompanied by Emilia Romagna Teatro and created in November 22)
Pendulum – direction by Marco Martins (project accompanied by Sao Luiz Teatro Municipal, to be created in June 23)
[Work in progress] – direction by Yael Ronen (project accompanied by Schaubühne, to be created in December 23)
[Work in progress] – direction by Angelica Liddel (project accompanied by Teatros del Canal, to be created in July 24)

 We enabled six international hostings, within the network, of these plays – and many more will come!
We successfully developed a streaming platform dedicated to theatre, available under: www.prospero-theatre.tv.
We produced and broadcasted, especially for our platform, ten original contents among which: the full film of Fraternity, a Fantastic Tale by Caroline Guiela Nguyen and The Silence, by Dead Centre, both subtitled in eight languages (the project's seven languages and English).
We organized three workshops dedicated to the sharing of best practices in audience development in theatres:

The first, organized by Théâtre de Liège, was dedicated to the missions of audience development;
The second, organized by Emilia Romagna Teatro, focused on audience development activities in times of COVID-19;
The third, organized by Powszechny Teatr, addressed the question of how to manage situations of political crisis in a theatre.

We produced and published for the wider sector, a study on how to manage author's rights questions related to the filming and online broadcasting of performing art.
In addition to all this, we tightened the link between our theatres and learned about each other's working practices and culture.
We are proud of all these achievements and are looking forward to the second part of this project!
Release of our study "Performing Arts Recordings and Broadcasts: A practical manual on author's and related rights"
The implementation of the Prospero Extended Theatre project has brought us, the project partners, to acquire new skills and knowledge in the field of theatre recording and online broadcasting. Among these, a better understanding of the legal issues – primarily related to author's rights – associated with this practice.
Indeed, in order to grasp the nature of these legal requirements and the practical steps theatres ought to take in order to fulfill these, we commissioned two legal experts in copyrights, Maxime De Brogniez and Antoine Vandenbulke from the University of Liège and the University of Mons in Belgium, to produce a practical guide on the matter.
To share the thereby acquired knowledge with the wider sector, we decided – jointly with the European Theatre Convention – to formalize this guide and turn it into a study, accessible for free online.
The study, named « Performing Arts Recordings and Broadcasts: A practical manual on author's and related rights » and written by Maxime De Brogniez and Antoine Vandenbulke, provides non-lawyers, in particular theatres, with a tool to manage the legal questions associated to the recording and broadcasting of a live performance. The study is divided in two parts:
An introduction to the relevant legal concepts and principles behind author's rights and related rights, and how they apply to the broadcasting of performances;
A closer look at the contractual relationships that emerge in the process of recording and broadcasting of live performances, with examples of contractual clauses.
You can download the study in English here and in French here.
The evolution of online streaming platforms in the last few years, accelerated by the successive lockdowns linked to the COVID-19 pandemic, have brought to the forefront the question of theatre's digital presence.
This trend is the subject of many debates and discussions: Can online theatre still be considered theatre? Can it exist without its immediate and tangible physical presence? Can digital media bring new ways of seeing, and even of creating plays, and by doing so broaden and enrich the theatrical experience?
The questions surrounding the theatre's existence in the digital sphere are numerous, and remain open for the public, directors and theatre companies.
Our project, Prospero Extended Theatre, is an attempt to answer these essential and compelling questions and Sunday the 9th of October was an important step in this regard, as it marked the official launch of our streaming platform www.prospero-theatre.tv.
The vocation of this platform is to host and make accessible for free (a minima until end of 2024) and in the whole European Union, theatre-related content such as: recordings of plays, films of plays, interviews of artists, and short documentaries on the theatres' and plays' backstage.
In particular, viewers will be able to watch the recordings – subtitled in nine languages (English, French, German, Italian, Portuguese, Spanish, Croatian, Polish and Swedish) – of the nine plays produced in the frame of the Prospero – Extended Theatre project:
Fraternité, Conte fantastique – by Caroline Guiela Nguyen
Imagine – direction by Krystian Lupa
The Silence – direction by Dead Centre
Sorry – direction by Bobo Jelčić
Pendulum – direction by Marco Martins
Hedda – direction by Aurore Fattier
Calderón – direction by Fabio Condemi
Project by Teatros del Canal
Project by Schaubühne Berlin – direction by Yael Ronen
This platform will allow the partner theatres to highlight the artists and productions they produce and support through high quality digital content, as well as to increase their own visibility on the European scene. This platform will also be an opportunity for them to develop their digital presence and to contribute to the appropriation of this medium – rich in potential – by the sector.
For the general audience, the professionals of the sector, and other interested actors from the educational and associative spheres, www.prospero-theatre.tv will be a place to find high quality recordings of plays, and related contents, coming from all over Europe.
Our platform is available on www.prospero-theatre.tv.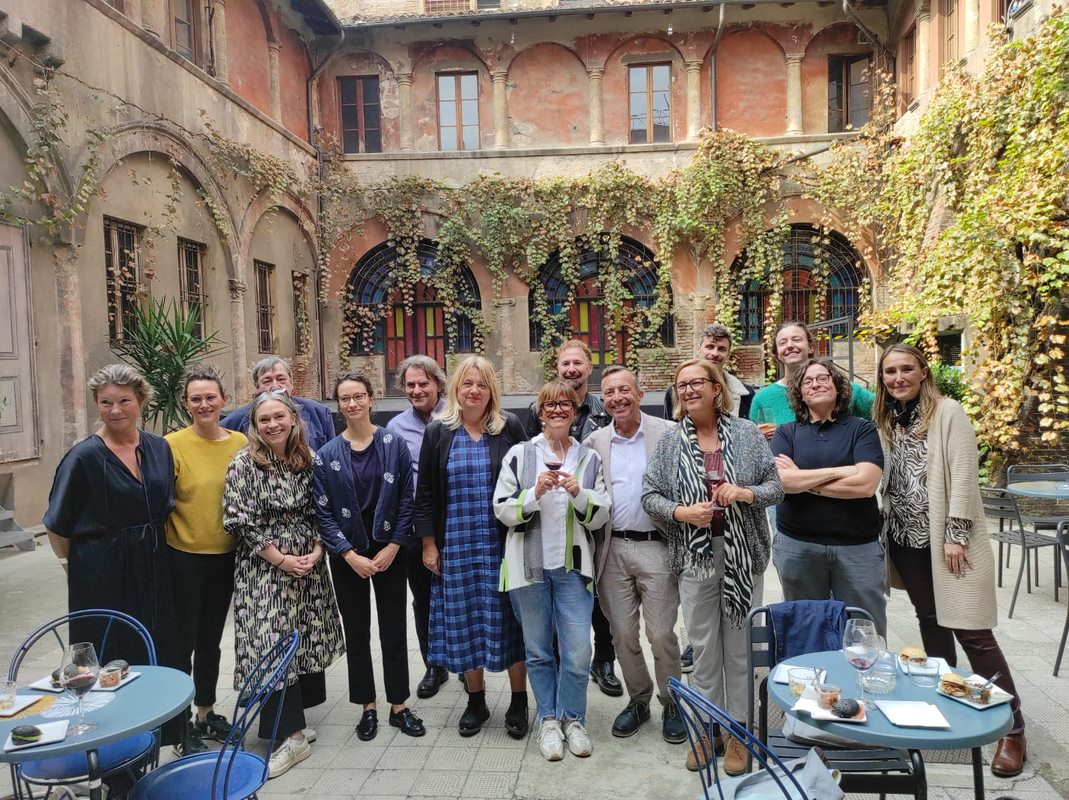 Launch of the project in Avignon
The official kick-off press conference will take place in Avignon during the festival, at the Novotel Avignon Centre, together with the different partners and journalists from the different countries of the network.
The conference will be followed by a lunch with the participants, during which it will be possible to exchange about the project, its artists and their creations.
Date and address: Thursday 8 July at 11:00 am | Novotel, 20 Boulevard Saint-Roch, 84000 Avignon.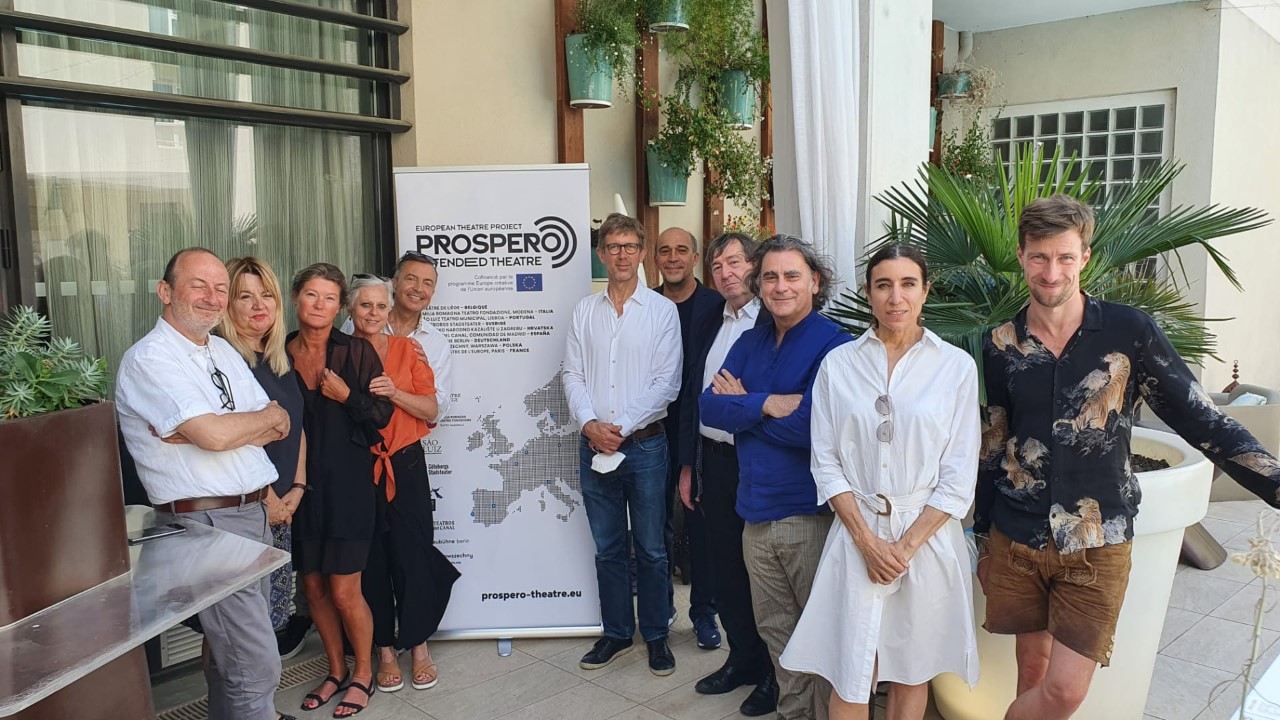 Obtaining European funding
We are delighted to announce that our project Prospero Extended Theatre will receive funding from the Creative Europe program of the European Union, from 2020 to 2024.
This project will be the continuation of the European Theatre Network project supported by the EU from 2008 to 2012.
Prospero is a network of European theatres that exists since 2006 and has helped to support the productions of Thomas Ostermeier, Teatro Praga, Katie Mitchell, Bobo Jelčić, Angelica Liddell, Milo Rau, Christine Letailleur, and Anne-Cécile Vandalem, among others.
For more information on the network's history, please consult the page "Network" on this website.